B
rooke Archer,
RSA DirectorBrooke Archer is no stranger to the arts. Mrs. Archer always made it a goal to be able to participate in the arts even while traveling around the country, including her stay in Germany for a few years. Her extensive arts background that began in childhood and her clear vision for Roosevelt School of the Arts makes her highly qualified to take the reins as the new director.

Mark Alatorre
Mr. Alatorre grew up in Selma California and graduated from Fresno State with a secondary credential in Kinesiology with a minor in Chicano Latino Studios. Mr "Al" (as called by his students) taught ten years at various local dance studios as well as the "Danzantes Unidos Festival". Mr. Alatorre also attended the last six of the ten "ANGF" dance conferences held in various cities across Mexico. Mr. "Al" has been teaching at Roosevelt School of the Arts since 1998 teaching 5 levels of Folklorico dance. Mr. Alatorre's dance classes perform every year for the winter and spring programs, the high school "Showoffs", the annual spring dance concert and the "Festival de los Danzantes". His top group "Los Danzantes de Roosevelt" is the elite group of the top dancers that continue to perform for major events throughout the state of California.

Kathryn M. Koch
Kathryn M. Koch is a Fresno native who has been teaching Theatre Arts for Fresno Unified for the last 25 years. A Theatre Arts graduate from California State University, Fresno, Ms. Koch has an extensive background in acting, playwriting, dramatic literature and history, directing, improvisation, and all the aspects of technical theatre. She has studied Shakespeare with Oregon Shakespeare Company and is National Writing Project Fellow. Her stage credits include Hamlet, The Miss Firecracker Contest and being a member of the Full Moon Improvisational Comedy Troupe. She also stage managed for Fresno City College Summer Arts Festival. She has been at the School of the Arts for the past eleven years, and before that she taught at Hoover High School where she founded the Patriot Theatre Company. Some of her favorite shows that she designed or directed are Arsenic and Old Lace, Little Shop Of Horrors, Damn Yankees, A Midsummer Night's Dream, The Taming of the Shrew. Hush: An Interview With America, The Curious Savage, Shakespeare's Women, Once on This Island, The Diary of Anne Frank, and Thoroughly Modern Millie.

Eric R. Gratz 
Eric R. Gratz, director of the RSA orchestra program, received his M.A. from the distinguished School of Music at the University of Northern Colorado and has a teaching, conducting and performing career spanning over 40 years. Gratz has been quite active as a conductor in California and Ohio, having conducted the Kings County Symphony, the Merced Symphony and, while living in Ohio, was Music Director and Conductor of the Euclid Symphony Orchestra and Lakeland Civic Orchestra, guest conducted the Heights Chamber Orchestra, and served as Cover Conductor for The Cleveland Orchestra Youth Orchestra. He also conducted the Fresno Friday Philharmonic in over 200 concert performances, was and Music Director of the Fresno Youth Symphony for 20 years, guest conducted and adjudicated numerous orchestras and bands throughout the San Joaquin Valley. In 1995 Mr. Gratz and his wife Susan founded Youth Orchestras of Fresno, a 501 © 3 corporation that promotes orchestral performance by young musicians throughout the San Joaquin Valley. Under his direction, The Fresno Youth Symphony performed five to six concerts annually and performed on five major European Concert Tours in fourteen different countries and was recognized as one of the finest youth orchestras in the Western United States. During summers when not touring, Mr. Gratz was assistant conductor under Daniel Lewis at Hidden Valley Institute of the Arts, and has been horn coach and conductor at the Fresno Philharmonic Music Camp, University of the Pacific Summer Music Camp and the Saskatchewan Summer School of the Arts in Saskatchewan, Canada. As a performer he was a member of the Fresno Philharmonic for 28 years, holding the position of Principal Horn for 15 years until his retirement in 1997 due to facial injuries suffered in a bad fall. He also played in the celebrated Music from Bear Valley Orchestra for 15 years, and has performed on his horn with Johnny Mathis, Henry Mancini, Andy Williams, Ben Vereen, Melissa Manchester, Roger Daltrey and others too numerous to mention. He is a former member of Moment Musical, Fresno Lyric Opera Orchestra and Opera San Joaquin. Mr. Gratz is the 1998 winner of the Fresno Arts Council's prestigious Horizon Award, which is presented annually to "those who make major contributions to the enrichment of life in the community through the arts."

Patrick Tromborg
Welcome to Roosevelt School of the Arts! My name is Patrick Allan Tromborg and I teach drama and stagecraft along with my cohort, Kathy Koch. If you are looking into the RSA program, GOOD FOR YOU! However, there are probably a lot of questions you have. Therefore, I thought I would like to take some time and tell you a little about myself so that you have an idea of what to expect.I love theater. I love the 'idea' of it. I love the practice of it. Theater is the ultimate team sport. All participants work and play together toward one common purpose. The end result is that everyone learns, grows, and is entertained. I love theater. I have been doing it now for many decades. I am a double graduate of Humboldt State University with B.A.'s in English Literature and Theater Arts. I also apprenticed under Carlos Massoni-Clamenti, the world-class actor and founder of the original Commedia Del Arte Theatre.My first love is as a performer and I have been blessed with the opportunity to perform in over 150 productions up and down the state of California over the last 30 years. I have performed in plays by Shakespeare, Ibsen, Wilde, Shaw, Stoppard, Mammet, Simon, and many other authors, known and not-yet-discovered.Some of my favorite shows have been The Taming of the Shrew, The Dark at the Top of the Stairs, Dancing at Lughnassa, Hamlet, You Can't Take It With You, Much Ado About Nothing, A Christmas Carol, Hedda Gabler, Inherit the Wind, Harvey, The Master Builder, Bye Bye Birdie, A Streetcar Named Desire, The Bachai, Fire Mountain, Bartleby, Charlie's Aunt, Cyrrano De Berjerac, Hello Dolly, Oleana, Oliver, Last Night of Ballyhoo, Proposals, and, oh, there have been many more. My favorite show is usually the one I am doing at the moment.I have also directed many shows throughout the state. I have directed children's shows, several junior high productions, and many high school shows. I have directed for community theatre and repertory theatre as well. Some of my favorite directing projects have been Everyman, Barefoot in the Park, Epic Proportions, Macbeth, Laura, Tiger House, The Miracle Worker, Morning's at Seven, Alls Well That Ends Well, The Good Doctor, and many more.For the last dozen years or so I have performed and directed locally in over 50 shows with Good Company Players, primarily at the 2nd Space Theatre. I have also designed a number of sets for Roger Rocka's Music Hall and The 2nd Space. I designed and built the original stage and sets for the Woodward Shakespeare Festival. One of my favorite experiences was designing and building a haunted house for the Fresno Police Department.  Never one to remain idle when not performing on stage, I have also gained a world of experience in other ways. I have worked in nearly all areas of construction, have held jobs as a professional clown, a stand up comedian, a disc jockey, a sports announcer, a club cooler, and a telemarketer to name a few. I most recently was the scene shop foreman for Good Company Players.I also perform with the award winning improvisation comedy troupe, The Knuckledraggers. I own my own theatre company, The Irregular Theatre Company, and have written, directed, and performed in many improvisational murder mysteries and comedy shows. One last occupation to mention; I am a teacher. I have taught at the junior high and high school levels since 1984. I have taught workshops and seminars and extended education courses on acting and theater for the last 20 years. The greatest joy in any experience is the sharing of it with others.

Richard Woods 
Bass-baritone Richard Woods is a native of Fresno. He began performing at an early age as a member of Roger Rocka's Junior Company Players with former Roosevelt graduates Audra McDonald and Joel Ables.While at Fresno State, he discovered a love for opera and with the urging of the late Larry Stayer of the Metropolitan Opera's Young Artist Program came to New York City to audition for several conservatories. Though offered a full scholarship to the Manhattan School of Music, Richard instead chose The Juilliard School of Music at Lincoln Center where he became the youngest person to ever be accepted into the J.O.C. (Juilliard Opera Center) at 21.Soon Mr. Woods was noticed by New York City Opera where he made his professional debut in Tosca at 23. Mr. Woods eventually was hired full time by the company and served as house bass-baritone where he went on to perform numerous roles throughout the nineties. He spent his summers in the top apprentice programs including Music Academy of the West in Santa Barbara, Wolf Trap Opera Company in Vienna, and two tours with the Merola Program's Western Opera Theater in San Francisco. Richard has won several awards including the Metropolitan Opera's National Council Auditions at both the district and regional levels, and the Luciano Pavarotti International Voice Competition.Throughout his early career Richard has had the opportunity to study extensively with Marlena Malas, Frank Corsaro, Nico Castel, Thomas Grubb, Giorgio Totsi, Luciano Pavarotti, Barbara Cook, Marylyn Horne, and many other amazing coaches, conductors, directors, and singers.In the midst of his budding operatic career, Richard decided that being away from his wife and two young sons was too great a sacrifice to make for all involved.Mr. Woods decided a career in music education was the best way to utilize his vast music and performance experience. Relocating his family back home to Fresno, Richard took over duties as Vocal Music Director for Roosevelt School of the Arts where his advanced groups regularly receive Superior ratings at Choral Festival.Richard performs regularly with the Fresno Grand Opera and is currently pursuing a Master's Degree in Vocal Performance at Fresno State. Mr. Woods has performed throughout the world, and is thrilled to have the opportunity to help prepare Roosevelt's talented students for their turn at a successful career in music.
Serena Yang 
My journey into the world of dance began at the age of four. Upon entering my teen years, I started to seriously study dance at Roosevelt School of the Arts. In my senior year, I was awarded the Sunny Brown Memorial scholarship which helped me continue my education in the arts at U.C. Irvine. While at Irvine, I was afforded the opportunity to travel to England and study at London Metropolitan University for a semester. Upon returning to Irvine, I completed my Bachelors of Arts in Dance in 2010. Because of my love for dance, my goal is to continue my post baccalaureate studies and continue to teach dance in the classroom. My plan is to enroll in the Fresno State's Masters of Arts in Sports Psychology program in the fall. I've recently opened up my own dance center where I promote dance as a healthy lifestyle and emphasize the beneficial effects that dancing produces. I believe that my gift is the ability to effectively communicate to students the pursuit of excellence in dance. That the pursuit of excellence will not only transfer to my students' other academic classes, but to their overall life style as well. I consider myself fortunate to be teaching at Roosevelt School of the Arts where it all began for me. Through my own experiences, I can pass on to my students the benefits and experiences that have made me the person that I am today.

Taylor Ledak Taylor M. Ledak began playing clarinet at age of 10 in his hometown of San Diego, CA. Since relocating to Fresno in 2004, he completed a BA in Music Education Instrumental at Fresno State and MA in Music Performance Clarinet, also at Fresno State. While at Fresno State he played in the Wind Ensemble, Symphony Orchestra, Bulldog Beat Athletic Band, Bulldog Marching Band, and various chamber ensembles. Taylor was the recipient of the Frank Wells Memorial Scholarship and a Bulldog Beat Scholarship.
Mr. Ledak, an FUSD Excellence in Education Award recipient, has been director of the marching and concert bands at Roosevelt High School since 2008. His other responsibilities include the Mariachi, Woodwind, and Brass Ensembles. Under his leadership, the band program has grown in membership by over 500%. The various groups under his direction have received superior ratings at festivals and have been invited to perform at prestigious events and venues such as the Create CA Arts conference, Fresno City Hall, Fresno Chamber of Commerce, and numerous high-profile events for Fresno Unified.
Taylor currently plays clarinet with the Winds of Clovis Wind Ensemble, Fresno Unified Faculty Clarinet Quartet, which was recently selected to perform and present at the 2017 CA All-State Music Education Conference, and occasionally appears with the Tulare County Symphony Orchestra. In past he has played with the San Diego State University Wind Ensemble and Grossmont Symphony Orchestra.
Taylor has studied clarinet with Charles-Ellis MacLeod of the San Diego Symphony, Dr. Marian Liebowitz of San Diego State, and Dr. Miles Ishigaki of Fresno State. He has studied conducting with Dr. Lawrence R. Sutherland, and Dr. Gary P. Gilroy of Fresno State.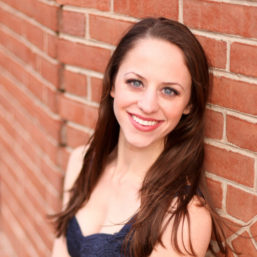 Cathrynne Reynolds
Cathrynne Reynolds received her early training in the Philadelphia area earning her B.A. in dance and minor in psychology from Eastern University in 2012. While at Eastern she studied ballet, pointe, modern, jazz, African dance, pedagogy, dance history, and dance composition and held principal roles in various works including Michel Fokine's Les Sylphides. Cathrynne then performed for three seasons with the contemporary ballet company DanceSpora under direction of Heidi Cruz-Austin where she held various soloist and principal roles. Among others, her company credits also include performances with Christopher Fleming's BalletFleming, Kariamu & Company, and guest performances including Sugar Plum Fairy in the Nutcracker Grand Pas de Deux. Cathrynne has also studied with Lar Lubovitch Dance Company, Peridance Contemporary Dance Company, Parsons Dance Company, and Ballet X.
Cathrynne has been teaching dance for over 12 years and has experience teaching all ages/ levels in ballet, pointe, contemporary, lyrical, modern, jazz, and Progressing Ballet Technique (PBT). Her choreography has been showcased in the Philadelphia Fringe Festival and has received various overall rankings and choreography awards at competitions. Cathrynne is an ABT© Certified Teacher, who has successfully completed the ABT© Teacher Training Intensive in Pre-Primary through Level 3 of the ABT© National Training Curriculum. She is currently on the roster of dance competition judges with Impact Dance Adjudicators. Cathrynne relocated to central California in fall 2016. Most recently, she completed her certification in the Progressing Ballet Technique (PBT) program by Marie Walton-Mahon.
Cathrynne's students have successfully auditioned for various summer programs including Next Generation Ballet and the Rock School for Dance Education and have gone on to pursue a professional career in dance at programs such as Marymount Manhattan, Boston Conservatory, and the University of the Arts.

Tamara Norris
Tamara Norris is a Costume Designer, Wardrobe Stylist, Makeup Artist, Props Artist, and Seamstress with over 30 years of experience. Along with receiving an Associate's Degree at Brooks College of Design and Merchandising, in Long Beach CA, Tamara has studied under two Master Seamstresses.
In 2008 Tamara opened her own business, Tamara Lynne Designs. As a Freelance Designer, she has had the ability to take on a multitude of jobs to grow and enhance all of her trades. Tamara believes that Theatrical Design, in its many forms, is a branch of the Visual Arts. It's the ability to help a Director/Client communicate their vision into a plausible and recognizable character who is able to express the needs of a performance. With Theatrical Visual Arts, the audience should know who the character is and what the set represents upon initial appearance.
Over the last 8 years Tamara has worked with many local south Fresno County Performing Arts groups, featuring ages from toddler to 75. She specializes in Elementary and High School students as a Costume Designer and Key Artist, and can often be found teaching Costuming, Theatrical Sewing, and Theatrical Makeup.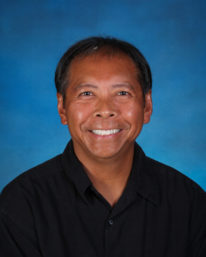 George Ramirez
Along with directing the Latin Jazz Ensemble and teaching History of Rock at Fresno City College, Mr. Ramirez currently teaches percussion and directs the Steel Drum, Latin Jazz and Jazz ensembles at the Roosevelt School of the Arts Magnet. During the summer he also teaches Jazz History and Appreciation at FCC. He has also taught MIDI Music Production at RSA and Percussion Pedagogy at California State University, Fresno. He holds a Master of Music Degree with Honors in Afro-Latin Music from CSU, Los Angeles, a Bachelor of Arts Degree in Instrumental Music Performance from CSU, Fresno and maintains a very successful private teaching studio. He is also in demand as a clinician throughout the San Joaquin Valley and during Spring of 2009, gave a workshop at the Westfalen School of Music in Münster, Germany.
As a professional drummer, he has toured Germany, the Far East and across the United States. A versatile player, Mr. Ramirez is very active as a freelance musician performing at concerts, shows, recording sessions, churches, and various local venues. Some of the artists he has performed or recorded with include Dave Samuels, Arturo Sandoval, Laurindo Almeida, Mark Levine, Jon Faddis, Juan Serrano, Rebeca Mauleón, Tim Ries, Mary Wilson of The Supremes, and The Diamonds. Among others, local groups have included the Latin Jazz Ambassadors, Rumba 32, the Jazz Composers Orchestra, the Fresno Philharmonic Orchestra, the Tower of Power tribute band Souled Out, and the New Covenant Community Church worship band. He also is one of the house-band drummers for a weekly jazz jam session.
As a member of the highly acclaimed CSU, Fresno Jazz Band 'A', George received the Zildjian Outstanding Combo Drummer and the Sabian Outstanding Big Band Drummer Awards at the Pacific Coast Collegiate Jazz Festival. He was also part of this band when it won 1st Place at the Reno Jazz Festival.
George and his lovely wife Jane have been happily married since 1999.
Brandi Capuchino-Mendoza
The Earth without ART, is just "eh". I strongly believe in this art quote and hope to inspire all students to create as well as appreciate the visual arts in the classroom and in the community.
My name is Brandi Capuchino-Mendoza and I am a RSA Visual Arts teacher at Roosevelt for the past 3 years now and have been an art teacher for the past 8 years. In my earliest childhood years in elementary school, I remember fondly my art and ceramics classes where I was getting my hands dirty, working with clay and pouring ceramic molds in order to paint them. My parents still kept all of my fired pieces that I made! I also made artwork that was entered into school and local art contests and was recognized for my art submissions. Then later when I attended Sierra High School, I took several art classes as well as sculpture clay classes where I was creating hand built pieces as well as throwing on the ceramics wheel. I also fondly remember participating in what we called Clay Day where there were clay competitions all day from middle schools and high schools from various ceramic programs all around the central valley. I was sharing my passion of creating with others and I
knew what career I wanted to pursue after high school. I began my educational path of learning the craft of art by attended Fresno City College & the Clovis Center with an Associates Degree before I transferred to Fresno State and completed the requirements for a single subject art credential. Along the way, I shared my love of the arts by being a elementary paraeducator for after-school programs in Fresno. It wasn't until I became involved in the Partners-In-Art Program at Fresno State directed by the late Paulette Fleming, where I learned the meaning of community… Dr. Fleming helped me
become the art teacher who I am today. Within the Partners-In-Art Program, I was able to assist in teaching art to inner-district schools who did not have art programs at school on the weekends. We also worked together with Corridor 2122 to have a art show that displayed the student artwork that was made through the program during Y.A.M. Youth Art Month in March. Since graduating from Fresno State, I have invited my high school art students to participate in the art program that was located on the Fresno State art campus. This was a great experience because these students have been on the FSU campus before, nor have they created art in a
college art studio. My proudest teaching moments are those when a student realizes the power of art when their artwork is recognizing by their teacher and is on public display at a local library, a local business, downtown in the FUSD education center, at the Fresno Fair or in the Roosevelt administration display case.
Throughout my teaching experience, I have taught various art courses including: 3D design, video production and ceramic courses. I love exploring and pushing the creative limits, especially when you merge technology with art. Most recently using a 3D printer and 3D
scanner to create my own customized tools for students to use. I am also a resourceful and environmental artist who strives to make art that connects to viewers to re-think alternative endings of everyday things humans use everyday. When I am not creating art with students, or teaching a lunch sessions of yoga, I am actively getting exercise by chasing my two young daughters that keep me busy or traveling with our family to the bay area.


Monica Petrucci