We offer both traditional dance classes, and classes/groups which reflect our community's Latin American and Hmong cultures.
Ballet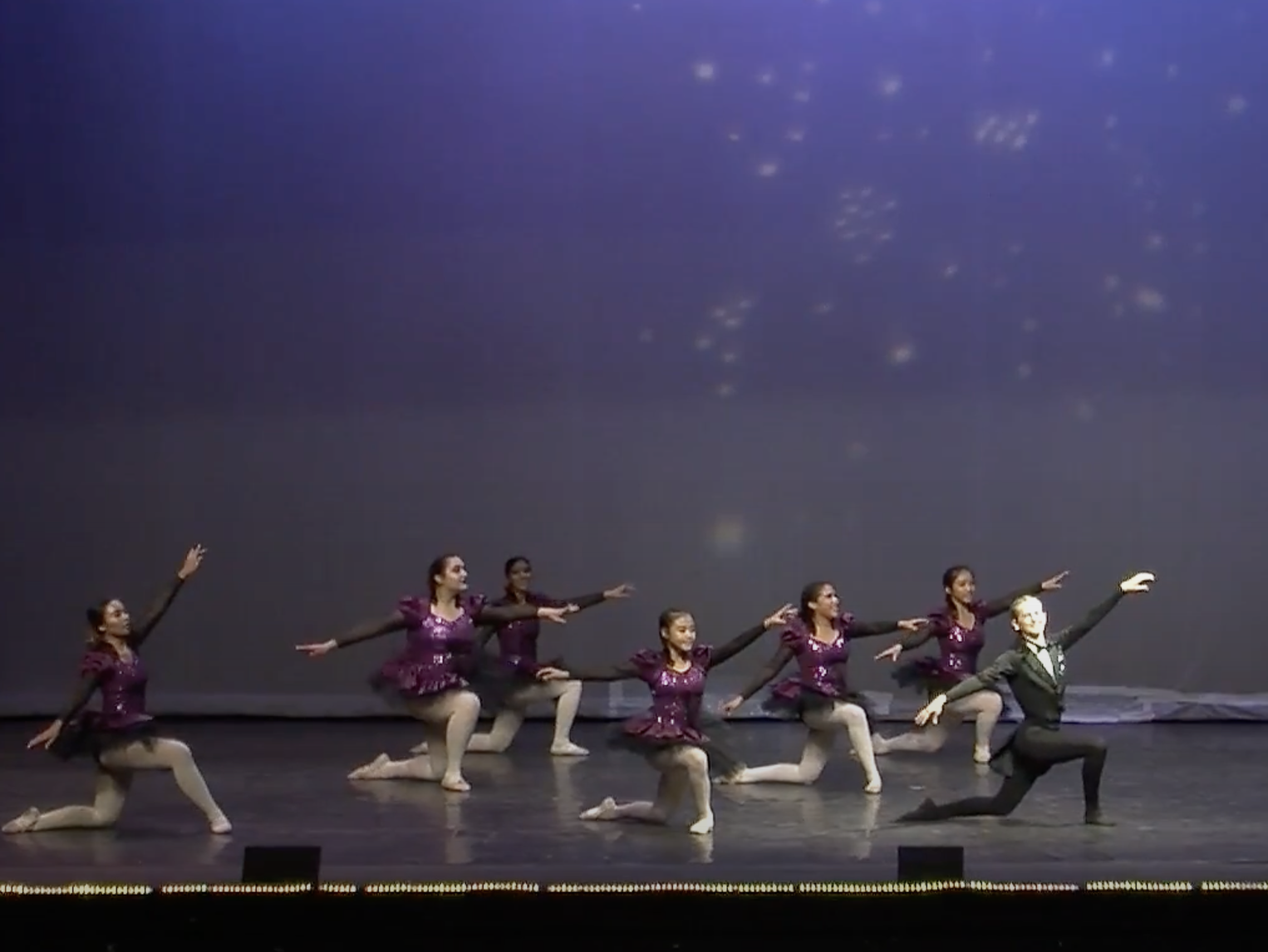 Beginning Ballet: Students in Beginning Ballet discover the joy of movement through the physical experience of dance. They develop flexibility, endurance, muscular strength, kinesthetic awareness and musicality. This class requires the students to actively participate and dress appropriately for a classical ballet class. They learn the technique, vocabulary, discipline, culture and history of the art. As students work toward performing in the RSA Dance Concert in May, they learn to interpret choreography and to tell a story through dance.Prerequisite: none.

Intermediate Ballet: In this second year of Ballet class consists of flexibility and conditioning exercises, ballet barre exercises, and combinations in the center of the room. Students build on beginning ballet vocabulary, strengthening, and placement. In this class, dancers create research reports on famous composers, dancers and choreographers each quarter. Students will be given the chance to choreograph in class and all students will perform a teacher choreographed piece in the Spring Dance Concert. Prerequisites: Beginning Ballet with a C grade or better or permission of instructor.
Advanced Ballet: Students admitted to the class have demonstrated a high level of classical ballet technique and knowledge through an audition process or teacher recommendation. The class will consist of ballet barre, and classical as well as contemporary combinations across the floor and in the center. In addition to the teacher's choreography, students will create their own pieces and learn the work of other students. As students work toward performing in the Spring Dance Concert they will learn to interpret choreography and to tell a story through dance.
Emphasis will be placed on vocabulary, proper placement, musicality, strength, endurance, discipline and artistry. This class requires the student to actively participate and dress appropriately for a classical ballet class.
Students will study ballet companies, directors, choreographers and dancers who have influenced the world of classical ballet. They will attend and critique live dance performances.
Tap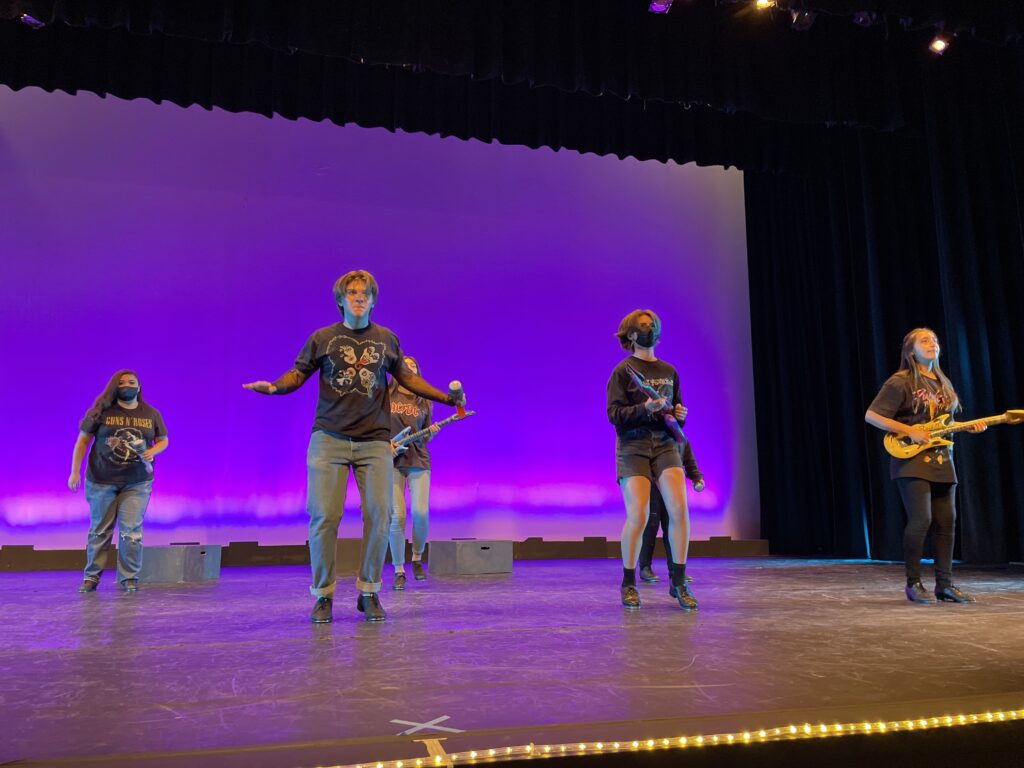 Beginning Tap: This course focuses on tap dance vocabulary, rhythm, and fundamental skills necessary to recognize and perform various types of tap dance combinations. Students will learn Tap dance history, attend live performances, learn tap techniques, rhythm and musicality, gain an understanding of basic choreography concepts, and gain basic knowledge of health and fitness. Students will apply performance and technique concepts at the Spring Dance Concert. Prerequisites: None
Intermediate Tap: This course builds on the concepts, vocabulary, and skills learned during beginning tap. Students will learn how to choreograph and audition for more advanced levels. Students will apply concepts and conclude the year with a live performance and audition for the advanced tap level. Prerequisites: Successful completion of Beginning Tap with at least a C grade or instructor approval.
Advanced Tap: This course focuses on retention of choreography, improving technique, and increasing speed of footwork. Students will perform for live audiences, produce a small variety show, choreograph, and compete at the regional level. Students at this level will leave RSA with skills needed to become a professional in the field. Prerequisites: Successful completion of Intermediate Tap with at least a C grade and audition for instructor approval.
Jazz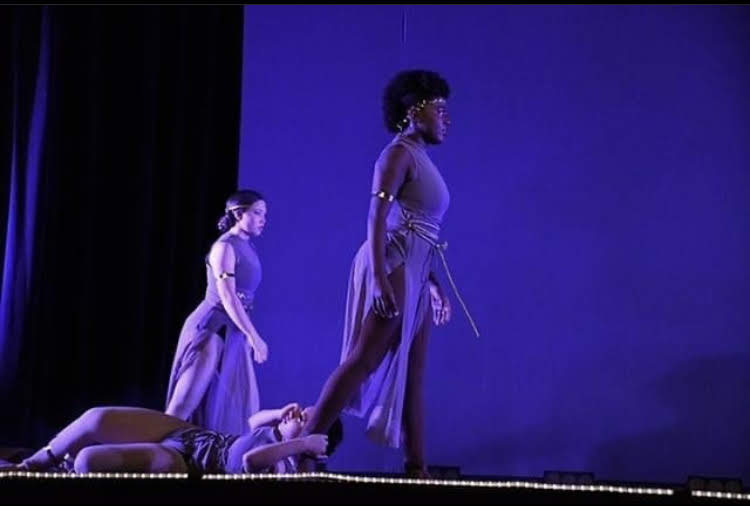 Beginning Jazz Dance Beginning: Jazz technique classes provide a basic understanding of contemporary jazz movements including a variety of dance skills, both technical and rhythmic. Beginning Jazz teaches the significance of dance, choreography, style and form, content, concept, context and technical dance. Students in this level will build on Ballet vocabulary, technique, and increase flexibility and muscle tone. Prerequisites: Beginning Ballet.
Intermediate Jazz A, B, and C: Jazz A is second year jazz class that builds on movements, flexibility, and technique from beginning jazz.Prerequisite: Beginning Jazz. Jazz B focuses on building technique and skill levels learned in Beginning and Jazz A. Students at this level prepare for entry into Advanced level Jazz. Prerequisite: Jazz A and audition. Jazz C focuses on more difficult movements that require strength and speed. Students at this level are 4th year dancers and focus on endurance and muscle control. Prerequisite: Jazz B and audition. Studying Ballet alongside Jazz is highly recommended.
Advanced Jazz: Fourth year and beyond students focus on special techniques, projects and performances. Students study four major areas: artistic perception, creative expression, historical and cultural context, and aesthetic valuing. Students learn pedagogy techniques, choreography techniques, production, basic lighting, and show design.Prerequisites: Jazz C and audition.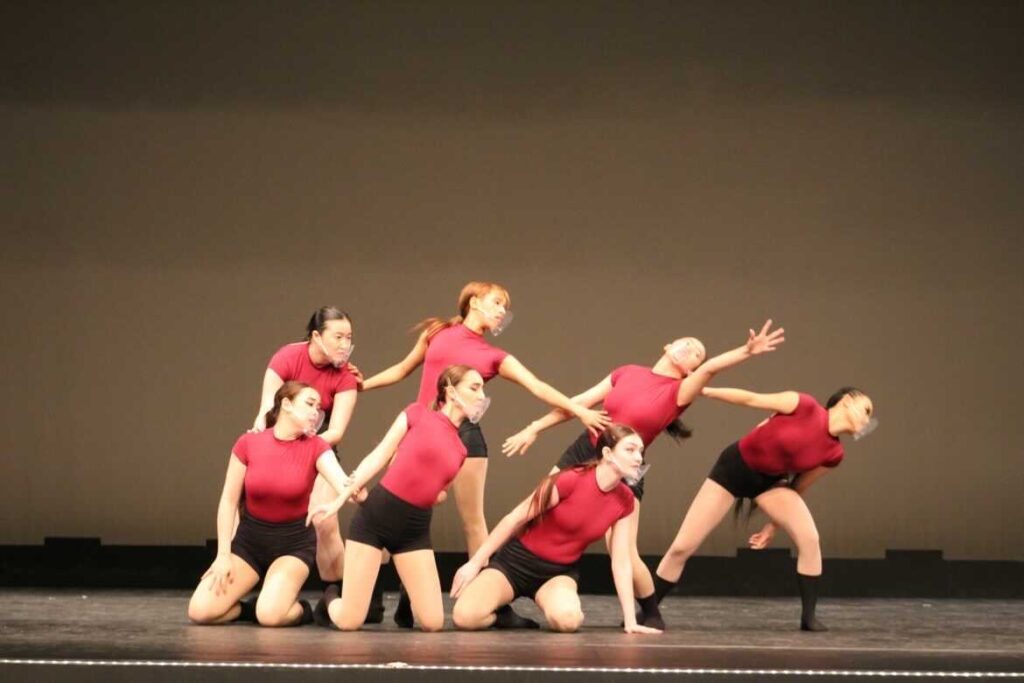 Studio D: Students involved in this program have to be taking both advanced jazz and advanced ballet. This program takes place between 2nd and 4th period and gives students a chance to create their own choreography. Students will then be adjudicated by a panel of judges in the Studio "D" Concert and the top 3 scoring pieces will be allowed to perform their work in the Spring Concert. Students at this advanced level learn choreographic techniques, lighting for dance, basic dance production, and pedagogy. Prerequisite: Enrollment in Advanced Ballet and Advanced Jazz.
Folklorico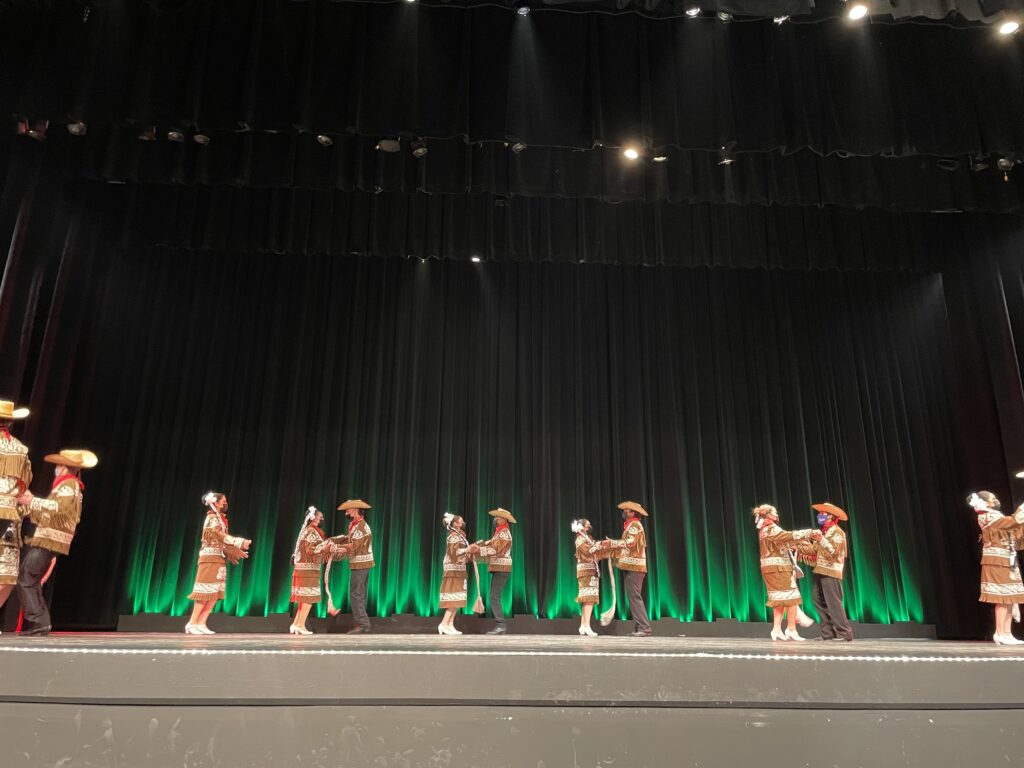 Folkloric Dance (Beginning, Intermediate & Advanced): Folkloric Dance is a study of the Mexican culture through dance. Beginning Folklorico is for the first year dance student who has basic experience in dance or shows an interest in learning folkloric dance. The course includes the study of the music, history, dress, and choreography of four regions of Mexico; Advanced Folkloric learns choreography from ten regions. Levels of Folkloric Dance provide specific challenges and techniques throughout the year. Intermediate and Advanced students learn sophisticated techniques along with perfecting dance steps common to all dance.
Danzantes de Roosevelt: Advanced Folkloric Performance Group. Prerequisite: Permission of instructor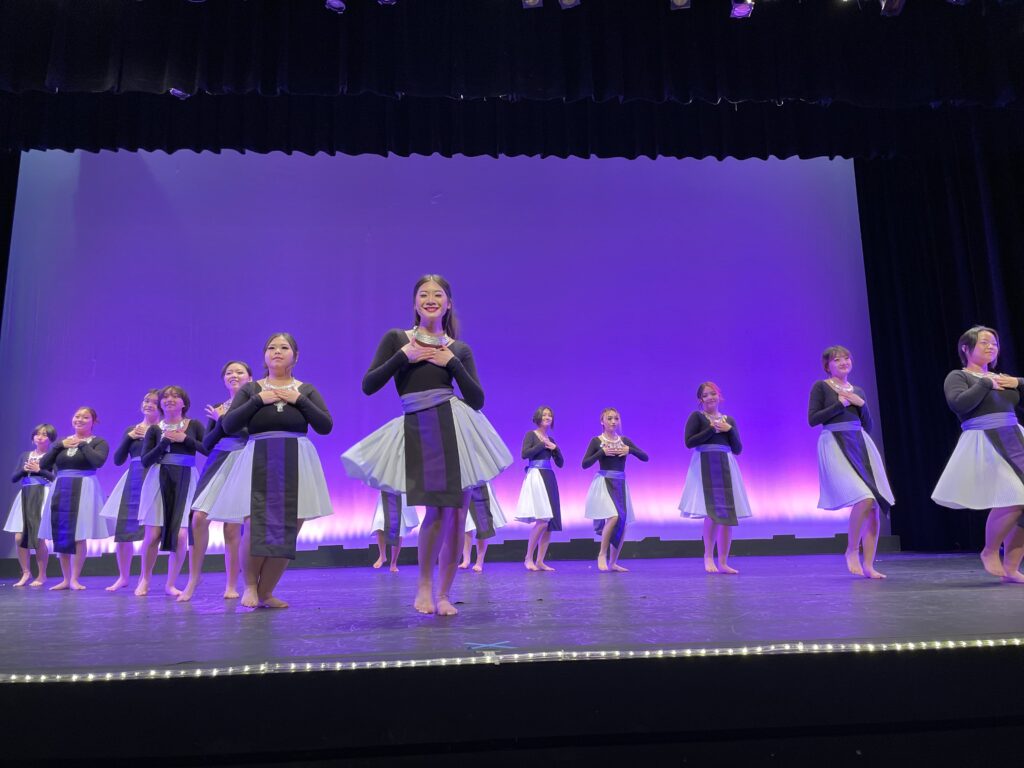 Hmong Dance: This course is multi-leveled. Students do not need prior knowledge and will learn Hmong cultural dance. The skills learned in this class will cumulate in the end of the year performance with a live audience, traditional Hmong costumes, and make-up. Prerequisite: None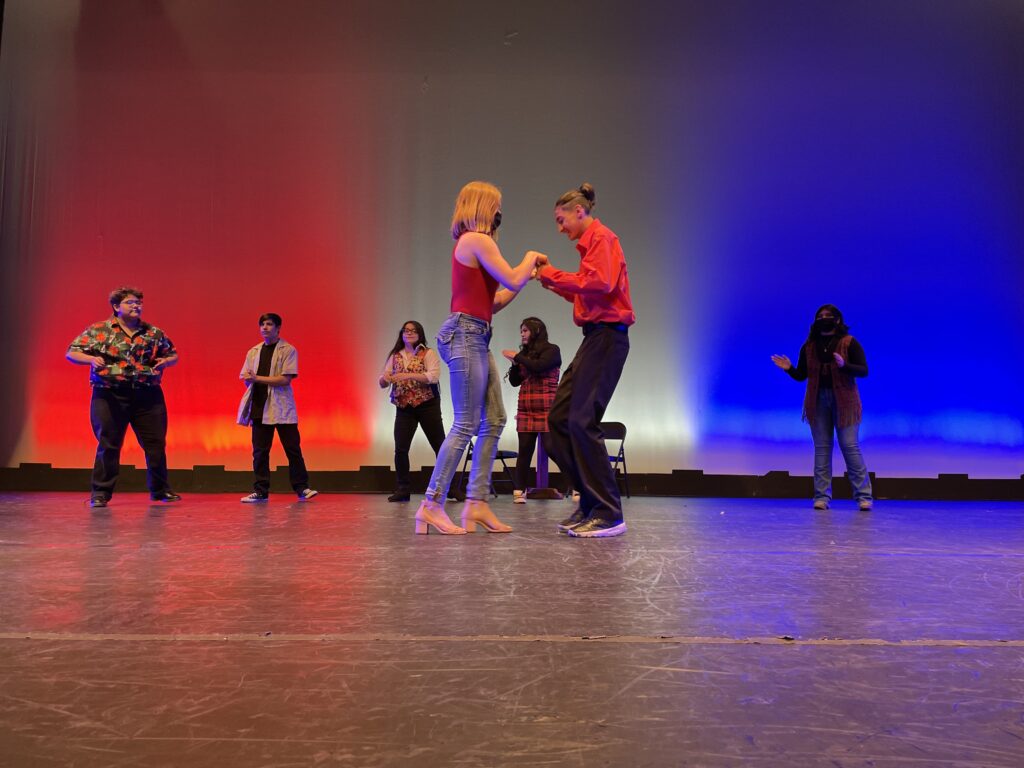 Dance Exploration: This course is a beginner course as an introduction to dances from around the world and history. Students will also get to learn dance forms from ballet to Hip-Hop. The class will include learning the elements of dance, musicality, choreography, control. rhythm, coordination, and balance. Students will gain basic knowledge of health and wellness, as well as participate in Physical Fitness testing in the Spring for all Freshmen. Prerequisite: None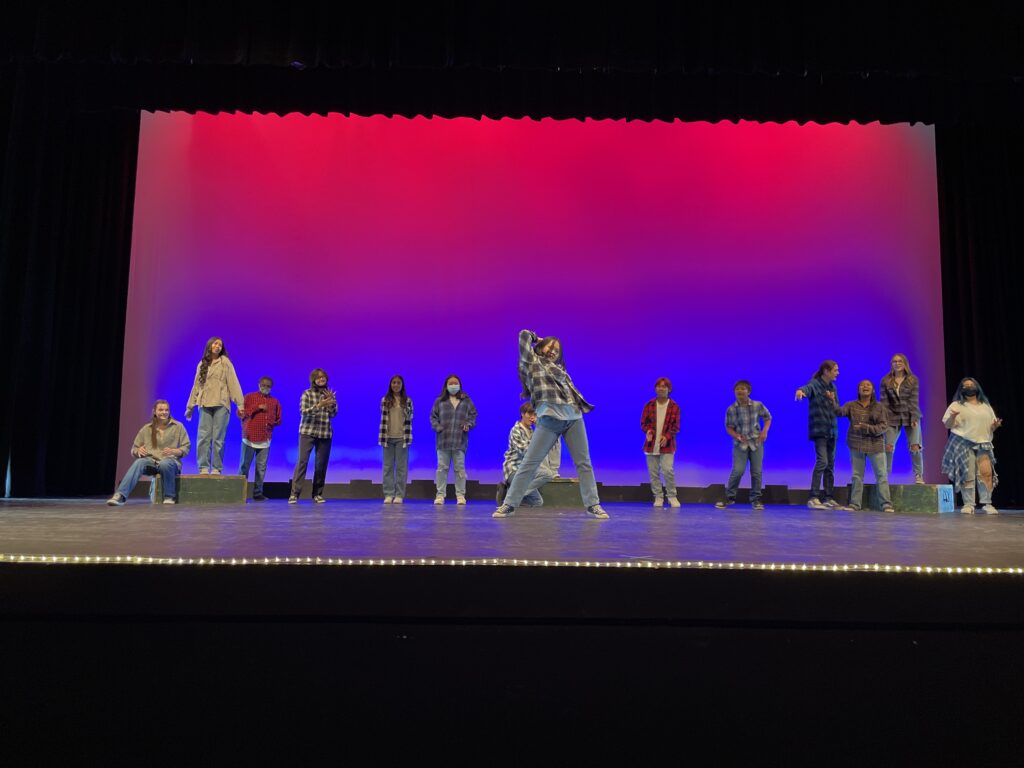 Hip Hop/Cultural Dance: Cultural Dance includes beginning, intermediate, and advanced Hip-Hop technique. The class will include modern hip-hop choreography, musicality, control, rhythm, isolation, coordina­tion, and balance. The tools, basics, and technical understanding in this style of popular modern dance are emphasized throughout the course. Prerequisite: Students must have one year of dance experience at any level at RSA.