In The News: Our Costume and Fashion Design Department received some great press earlier this month, courtesy of ABC 30!

COSTUMING:
When I started at RHS/RSA  as the new teacher of Theatrical Costuming & Makeup (and  CTE Fashion Design), my plan was to reshape the program and make it student led. I had hopes that freshman starting with me would be able to, by their senior year, Design, plan & organize an entire show by themselves using me only as needed supervision and as a stitcher (sewing person).
Our show  ("Wild Oats")  had rocked my world. In our set-up period I had a volunteer Stitching Crew of 20 students. While some were enrolled were in my class, many were not, and only 3 had ever sewn before. I have worked through the remainder of the show with a 9 person CosCrew and 3 regular Stitchers. This Crew has amazed me in their work and dedication to a type of workload they'd never experienced before. They have Costumed over 80% of our Principal show! To put this in some perspective, here are some numbers to crunch:
Cast number: 36
40 pairs of shoes
30 hats
15 pairs of suspenders
13 facial hair pieces
2 sets of hair extensions
14 belts & holsters
16 corsets, petticoats, chemise's, & bloomers
161 individual pieces of clothing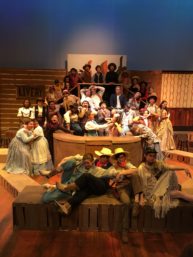 Keep in mind this is only for the Principal Show. We put on the Understudy show tonight, so you can nearly double these numbers! In total that's 72 Costumes and over 350 garment pieces!
Costuming is much more than simply picking a garment and having the actor put it on. You have to 1st analyze the script and each individual character to see what they would wear (dirty or fancy clothes? Are they always angry or jealous? Should we give the audience a subtle hint or foreshadow by having them wear green or red?). Then you need to begin coordination of the garments to make sure they blend with the other costumes being put on stage (just because it's a western doesn't mean everyone can wear jeans…) Do the costumes flow from one scene to the next? Or does the color clash with the set paint or the light design the Director has chosen? Are there any costume changes? Etc..
Next, we need to look through our 8000+ costume inventory and pull each item for each actor-if we have it. Keep in mind, no actor has less than 3 individual garment pieces – not including their needs as understudies. Now that we have the look we want; does it fit? If not the options are find something else, alter it, or make something brand new. We have 6 brand new costumes created by students, and 50% of the alterations have been done by this CosCrew or my classroom students.
Once this is all together there is the process of organizing and labeling it. With 16 individual corsets, petticoats, bloomers, chemises, 20+ shirts, etc, things can get mixed up. There is also laundry to take care of every few days.
Now let's talk about hair and makeup. While my CosCrew are also still learning, it's the expectation that they will assist the actors and make sure they are ready for success on stage for the audience. They show up 2 hours before the cast to prep, and stay at least 30 minutes later to cleanup. They have also "kicked me out" of the Theatre and run each show on their own, while I stay an arms length away in the Stitching LAB.
Whew. 80% folks! What should be a minimum of a 3 year learning period this CosCrew has done in 1 show with the leadership of 2nd year Costume students. I am so blown away and grateful for being able to work with such dedicated students who have a true love for Backstage Arts.
Please come join us and see the amazing Costuming that has been put together by our very own Roosevelt Riders!
-Tamara Norris